To import your valuable MBOX data into Outlook PST format, it's essential to follow precise guidelines to avoid any mishaps that could disrupt your folder structure or result in the loss of attachments. In this comprehensive guide, we'll explore both manual and third-party tools to convert MBOX to PST while ensuring that all your attachments are safely preserved. Let's begin by understanding why more users are gravitating towards Microsoft Outlook, where data security takes center stage, before delving into the steps for importing MBOX into Outlook.
The Rationale Behind Converting MBOX to Outlook
MBOX file format, a simple text-based mail format, is employed by various email clients, including Apple Mail, Gmail, Webmail, Thunderbird, Entourage, SeaMonkey, Netscape, and Postbox. In contrast, the PST file format is exclusive to the MS Outlook mailbox, encompassing a wide array of items such as emails, contacts, calendars, tasks, and more. This fundamental discrepancy is the primary driver for converting MBOX to Outlook PST format.
Another compelling reason is the accessibility of Microsoft Outlook on both Windows and Android smartphones, setting it apart from other email clients. This versatility allows users to effortlessly access their data from virtually anywhere, a distinct advantage that prompts many to opt for MBOX to Outlook conversion.
Lastly, the presence of an Exchange Server in the Outlook ecosystem provides an additional layer of data security, safeguarding against unauthorized access.
Methods for Converting MBOX to Outlook PST
The process of importing MBOX into Outlook can be categorized into two types: manual and straightforward.
Method 1: Import MBOX Emails to Outlook Using the Manual Method
Phase 1
Begin by installing the Eudora email client on your local system and configuring it with your account.
Once configured, navigate to the default location of Eudora and paste your MBOX file there.
Rename the file extension from .mbox to .mbx (Note: Mozilla Thunderbird doesn't display mailbox file extensions, so confirm the mail format in the properties option).
Phase 2
Launch Microsoft Outlook and access the Import-export wizard by clicking on the File tab.
Within the import-export wizard, select "Import Internet mail and address" and click Next.
Opt for "Eudora Pro and Light 2x, 3x, 4x" and proceed with the Next button.
Locate the Eudora mailbox and select the MBOX file or folder.
Click Next, specify the destination, and hit Finish to initiate the migration.
Read this Post: 2 Successful Methods to Convert MBOX Mails to Outlook
Please note that this method is only effective with earlier versions of MS Outlook.
Method 2: Streamlined Approach to Convert MBOX to Outlook
Users who find the manual method cumbersome, especially when dealing with multiple mailboxes, often turn to third-party solutions for their ease and accuracy. One such reliable tool is the GainTools MBOX to PST Converter Software. This tool gives the best conversion of MBOX Emails to Outlook PST format without losing a single file.
Steps to Export MBOX to PST Using GainTools Software:
Download and install the MBOX to PST converter tool on your Windows OS.
Click on the "Add file" button to load your mailbox into the software, then press "Export."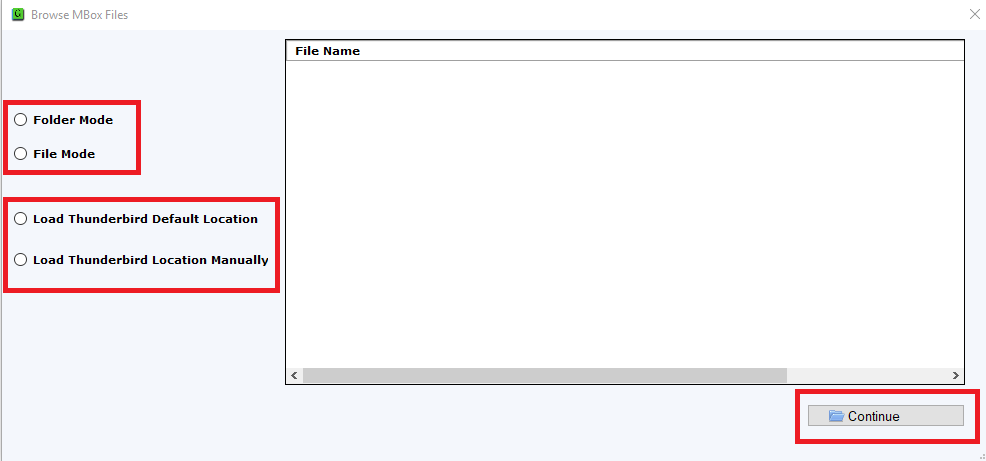 Select the PST file format and choose between a single PST or a separate PST for each MBOX file.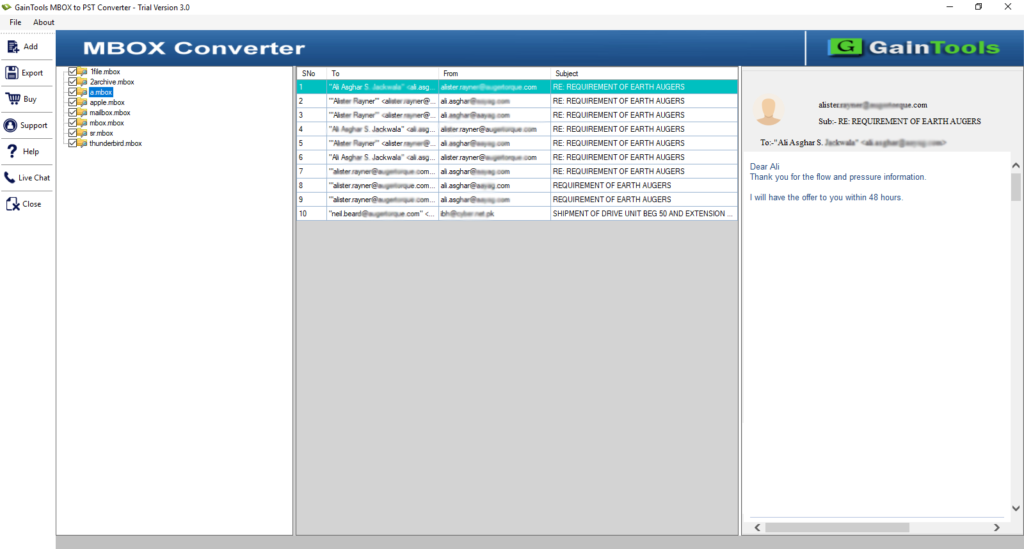 Set the destination folder to store the exported MBOX file locally and click "Export."
The software will indicate the ongoing migration process in the Processes window. Simply wait for the conversion to complete and click "OK" when the confirmation window appears.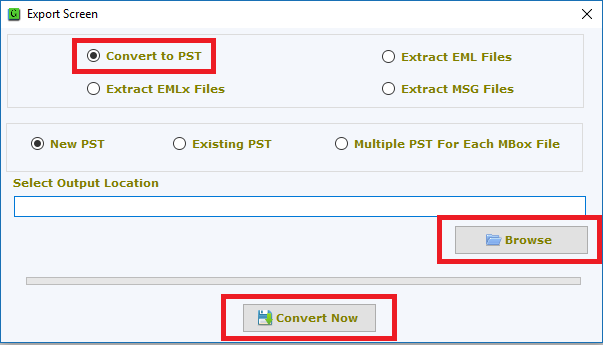 Conclusion
Having explored both manual and third-party methods, you now possess the knowledge to migrate your data with ease and precision. If you have numerous mailboxes, a third-party solution like GainTools MBOX to PST Converter Tool is the ideal choice. However, for a single mailbox, the manual method can be a viable option. Both methods have proven effective for importing MBOX into Outlook PST format, ensuring your data's integrity and accessibility.